Buy AutoCAD 2023 Full Activated For WINDOWS – 1 Year Key
2D Drafting – 3D Modeling And Visualization For Windows
  Buy AutoCAD 2023 Full Version for Windows 1 PC for 1 year Subscription on Obhsoftwares at the best price in the online market! You will receive your product key in your account within minutes by eMail. In order not to miss out on the mail, please check the spam or junk mail folder too! Download and buy AutoCAD 2023 latest full version offline complete setup for Windows. AutoCAD 2023 is a professional-grade CAD application that delivers the ultimate level of precision and complete command line support to design almost anything.  
What will I receive if i buy AutoCAD 2023 : 
The product is delivered  via email.
You'll get a direct download link of the software from the official website of Autodesk
You'll get a Genuine Serial Key of Autocad 2023 for Windows for 1 year Key
There are no monthly fees or subscription renewals.
Fast delivery is guaranteed via email.
Free technical support
How to buy ?
Click the Buy Now button, Enter your details and pay with PayPal; You will then receive your product through email.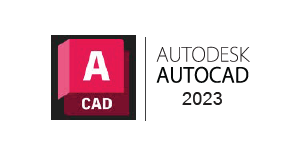 buy AutoCAD 2023 now,
Overview : 
AutoCAD is computer-aided design (CAD) software that architects, engineers, and construction professionals rely on to create precise 2D and 3D drawings. Import a wide variety of other formats, including SolidWorks, Pro/ENGINEER, CATIA, Rhino, and when an engineering change is made, drawing views, edge display, and location are instantly updated. The drafting, detailing, and conceptual design leader is showing the way once again. AutoCAD 2018 propels day-to-day drafting forward with features that increase speed and accuracy while saving time. Annotation scaling and layer properties per viewport minimize workarounds, while text and table enhancements and multiple leaders help deliver an unmatched level of aesthetic precision and professionalism.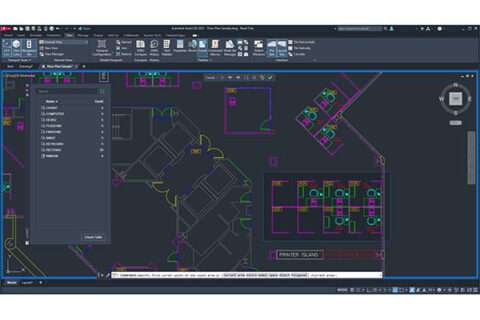 Features of Autodesk AutoCAD
Draft and edit 2D geometry and 3D models with solids, surfaces, and mesh objects
Annotate drawings with text, dimensions, leaders, and tables
Customize with add-on apps and APIs
Automate floor plans, sections, and elevations
Draw piping, ducting, and circuiting quickly with parts libraries
Auto-generate annotations, layers, schedules, lists, and tables
Use a rules-driven workflow to accurately enforce industry standards
View, edit, annotate, and create drawings on the go and in the field from a mobile device.
With no install required, log in to view, edit, annotate and create drawings quickly in your local web browser.
Command macros, which contain sequences of commands and system variables to automate tasks users perform frequently, have been available for years. Like the new My Insights feature, the new Macro Advisor in AutoCAD 2023 provides suggested command macros based on command usage. For example, if someone frequently rotates an object after it has been copied, the Macro Advisor might provide a macro that allows them to copy and rotate an object using a single command.

buy AutoCAD 2023 cheap

bif you uy cheap AutoCAD 2023 FULL ACTIVATED, the Command macros can be added to the Saved tab of the COMMAND MACROS palette for later use. On that tab, users can right-click a command macro to see a list of available options, including adding the macro to the ribbon, launching the Command Macro Editor, and renaming or deleting the macro. After adding a macro to the ribbon, users also have the option to add it to the Quick Access Toolbar. Command macros can also be edited or customized for specific use.

Other Improvements

In AutoCAD, each open drawing appears with its own file tab, which allows users to quickly switch between open drawings or display each in its own window. Until last year, those windows remained within the main AutoCAD application window. AutoCAD 2022 changed that, adding the ability to drag a drawing away from the AutoCAD application window and float it anywhere on screen. But the command line remained in the application window. Now, in buy AutoCAD 2023, an anchored command line window stays with the active floating drawing window, and rather than having to drag the window back onto the file tabs, users can right-click the title bar of a floating drawing window and click Move to File Tab to quickly return the floating drawing window back to the main application window. A floating drawing window also can be pinned so that it remains in front of the main application window. The look of the drawing and layout tabs have also been changed to make it easier to see which tab is active. The drawing tab overflow menu also now includes a checkmark to indicate the active drawing.
The technical preview of the new 3D graphics system that was included in the last release is now fully integrated into AutoCAD 2023. This new graphics system leverages the power of modern graphics processing units and multi-core CPUs to provide a smoother navigation experience for larger drawings. This new graphics system is on by default, but can be turned off if desired. When active, it works in viewports that use the Shaded or Shaded with Edges visual styles.A few general features on the new autocad drafting enhancements are included in the new release. For example, a new Extend Vertex grip option on polyline objects lets users add a vertex that extends from the selected end grip of the polyline. The MLEADER command now has an option to select an existing mtext object to use for the new leader, so to use all this features, buy AutoCAD 2023
System Requirements And Technical Details
Supported OS: 2.5–2.9 GHz processor Recommended: 3+ GHz processor
Memory (RAM): 8 GB Recommended: 16 GB
Hard Disk Space: 6.0 GB of free disk space for install
CPU: 64-bit Intel or AMD multi-core processor
.NET Framework : .NET Framework Version 4.7
buy AutoCAD 2023 cheap
We have all Autodesk products for windows and Mac :
Autocad revit inventor 3dmax Maya civil3d, advance steel, alias autostudio, arnold, electrical, autocad lt, autocad map 3d, mechanical, raster design, cfd ultimate, civil 3d project explorer, fabrication cadmep, fabrication camduct, fabrication est mep, factory design utilities, hms work ultimate, inventor cam, inventor nesting, inventor tolerance, mudbox, navisworks manage, robot structural analysis, recap pro, power shape, navisworks simulate.
While not all of our available software is listed on our website, we encourage you to contact us at contact@obhsoftwares.com to inquire about any specific software you may need. Our team is always happy to help you find the right tool for the job.
Read Blogs related to AutoCAD 2023 :
AutoCAD 2023 System Requirements
AutoCAD Student Version Free Download
Download AutoCAD free for students 2023
We have all softwares related to Autodesk :
Solidworks 2021
–
Solidworks 2022
–
Vectorworks 2023
–
Vectorworks 2022
Sketchup 2021
–
Sketchup 2022
–
Lumion 11 Pro