Lumion 11 Pro Full Version and Lifetime License
Lumion 11 Pro : 3D modeling and rendering software
What will I receive if i buy Lumion 11 Pro Lifetime full version License : 
The product is delivered  via email.
– Direct Download link of the setup full activated lifetime
– Quick and easy installation guide
– Free technical support
How to buy ?
Click the Buy Now button, Enter your details and pay with PayPal; You will then receive your product through email.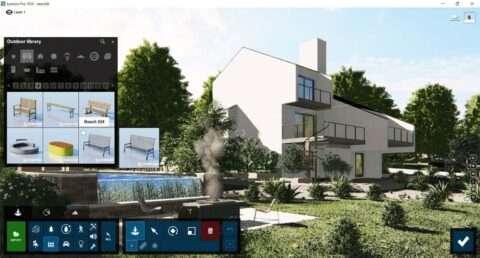 Lumion 11 Pro  Overview
Lumion is the world's fastest 3D rendering software for architects. In seconds, you can visualize CAD models in a video or image with real-life environments and striking artistic flair.Import your model from Revit, 3ds Max, SketchUp, AutoCAD, Rhino or ArchiCAD, among many other modeling programs, and Lumion instantly breathes life into your designs with realistic landscapes and urban context, stylish effects, and thousands of objects and materials from the content library. With Lumion 11, available today, realizing your vision for the design has never been easier. New features such as orthographic views reduce the effort needed to create plan and section views full of life, color and your own unique flavor. With animated phasing, you can show how the parts of your building connect and interact, creating a dance and a dialogue with the viewer. The new orthographic view feature in Lumion 11 lets you embed life, color and texture into all of your technical renderings. Instantly transform your standard documents into polished, one-of-a-kind images and videos, and maintain continuity with your other renderings without having to rely on other software. In moments like this, it's easy to feel a sense of peace, of comfort, or perhaps a joyful melancholy. And now in Lumion 11, you can capture this universal mood with the new rain streaks option as part of the Precipitation effect. With only a slight movement of the slider, dozens of dynamic, intelligent raindrops move down glass surfaces, a gripping detail that would otherwise take hours to get right. With the new metallic car shader in Lumion 11 Pro, the cars in your renders take on an impressive realistic quality, making them barely distinguishable from the real thing. Every element, every light throughout your render, reflects off the car's chassis and windows, instantly and organically integrating the car into the project's surroundings.
Features of Lumion Pro
Some of the new objects in Lumion 11 Pro include: – 61 fine-detail nature models – 177 interior models – 49 people and animals (some animated) – And many others… All the new objects are HD quality, and the recent additions bring the total number of items in the Lumion 11 Pro content library to 6,224*. 63 new materials With 63 new materials in Lumion 11, you can immerse your clients into a sensory experience, igniting memories of touch, smell, sound, and sight. The new high-quality materials in Lumion 11 include: – 17 wood floors and sidings – 5 carpets – 5 bricks – 3 slate panels – 3 sandstone tiles – 2 asphalts – 2 snow – And many others… Many of the materials in Lumion are of the highest quality, and It can alter them via displacement, weathering, soft edges (Pro only), and more. With the new additions, the total number of materials in Lumion 11 is 1,292*.
Internet connection: The PC running Lumion must be connected to the internet. Graphics card: GPU scoring a G3DMark of 7,000 or higher with up-to-date drivers. (Such as the Nvidia GeForce RTX 1650, AMD Radeon RX 470 or better) Graphics card memory:4 GB or more* Operating system: Up-to-date Windows 10 64-bit CPU (processor): Intel/AMD processor scoring a single thread CPUMark of 2000 or higher. (Such as the AMD Ryzen 5 1500X, Intel Core i7-3770K or better) Screen resolution: 1920 x 1080 pixels** System memory (RAM): 16 GB or more Hard drive:SATA3 SSD or HDD Hard drive space: Minimum 40 GB of free disk space in the drives where the Windows User Account and Documents folder are located in. Lumion Pro 11 Pre activated Life time for Windows  
Read related Blogs to Lumion :
We have all autodesk products Lifetime Activation :
AutoCAD 2021 – AutoCAD 2022 – AutoCAD 2023 AutoCAD 2022 MACOS – AutoCAD 2023 MACOS Revit 2022 – Revit 2023 3DS MAX 2022 – 3DS MAX 2023
We have also 1 year Activation keys :
AutoCad 2022 – Revit 2022 – 3DS MAX 2022