Autodesk Revit 2023 Full Version for Windows 1 Year License Key
Revit is the latest step in the continual evolution and development of Revit for multidiscipline BIM, the intelligent model-based process used to plan, design, construct, and manage buildings and infrastructure. Revit supports a multidiscipline, collaborative design process. The Autodesk Revit software product, based on the Building Information Modeling (BIM) technology, is designed to design, build, and manage high-quality, energy-efficient buildings. It is a full-featured solution that combines the possibilities of architectural design, engineering systems design, and building structures, as well as construction modeling (Autodesk Revit Architecture, Autodesk Revit MEP, and Autodesk Revit Structure).
What will I receive if i purchase Revit 2023 1 year key : 
The product is delivered  via email.
You'll get a direct download link of the software from the official website of Autodesk
You'll get a Genuine Serial Key of Revit 2023 Windows for 1 Year
There are no monthly fees or subscription renewals.
Fast delivery is guaranteed via email.
Free technical support
How to buy ?
Click the Buy Now button, Enter your details and pay with PayPal; You will then receive your product through email.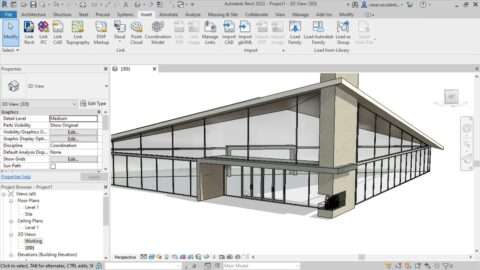 This release marks some movement along that path. The road map defines forward-looking themes that guide and prioritize Revit features and functionality development with input coming directly from you via the Revit Ideas Page.
Features of Autodesk Revit 2023
Autodesk Revit 2023 Streamline your modeling workflows by working directly in perspective views.
When you import or link certain items into a model, you can apply tags to these items.
Use the Split Element tool on structural columns and framing elements
To ensure that structural connections from this application adhere to the latest standards
Resize runs of connected fabrication parts using the Properties palette or the Edit Parts dialog.
In Autodesk Revit 2023 you can specify fabrication parts to be excluded.
Easily change the service on MEP fabrication parts in a model using the Properties palette.
Change the size (diameter) of a hanger support rod while maintaining accurate costing data.
Add or remove a damper or change the damper type on fabrication parts that support built-in dampers.
Use the Split Element tool and Split with Gap tool on any fabrication straight.
System Requirements and Technical Details
Supported OS: Windows 7/8/8.1/10
CPU: 64-bit Intel or AMD multi-core processor
Memory (RAM): 4 GB of RAM (8 GB recommended)
Hard Disk Space: 40 GB
 
We have all Autodesk products for windows and Mac :
Autocad revit inventor 3dmax Maya civil3d, advance steel, alias autostudio, arnold, electrical, autocad lt, autocad map 3d, mechanical, raster design, cfd ultimate, civil 3d project explorer, fabrication cadmep, fabrication camduct, fabrication est mep, factory design utilities, hms work ultimate, inventor cam, inventor nesting, inventor tolerance, mudbox, navisworks manage, robot structural analysis, recap pro, power shape, navisworks simulate.
While not all of our available software is listed on our website, we encourage you to contact us at contact@obhsoftwares.com to inquire about any specific software you may need. Our team is always happy to help you find the right tool for the job.
Read Blogs related to Revit 2023 :
Revit system requirements (Do you Know?)
A Complete Guide to New Revit 2022: What Are the New Highlights?
Autodesk Revit 2022 Free Download
Are you a reseller?
If you're a reseller, mail us at obhsoftwares@gmail.com and we'll send you a tailor-made price list. Let's work together! For the safety of your device we always recommend the installation of an Antivirus, you can choose your Antivirus by clicking here.
We have all autodesk products Lifetime Activation :
AutoCAD 2021 – AutoCAD 2022 – AutoCAD 2023 AutoCAD 2022 MACOS – 
AutoCAD 2023 MACOS Revit 2022 – Revit 2023 3DS MAX 2022 – 3DS MAX 2023
We have also 1 year Activation keys :
AutoCad 2022 – Revit 2022 – 3DS MAX 2022